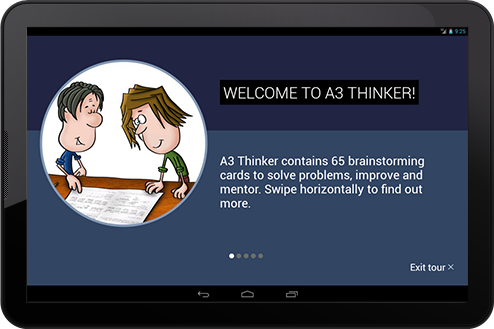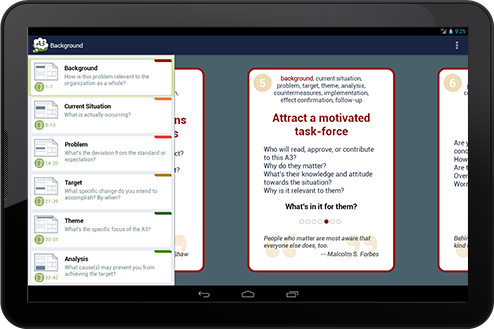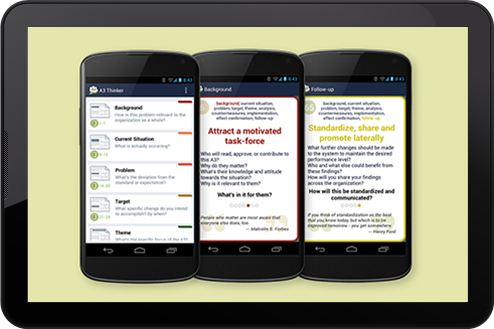 A3 Thinker - Mobile Edition
65 Brainstorming Cards for Lean Problem-Solvers
Solve PROBLEMS systematically
develop YOUR CRITICAL-THINKING SKILLS
Move organisations forward
Take your Lean problem-solving skills to the next level
Develop your critical thinking skills
A3 Thinker will help you frame problems with improved clarity, accuracy, precision, relevance, depth, breadth, logic, and significance. It fully supports the A3 Thinking management approach originated from Toyota and adopted by Lean organisations around the world.
65
brainsto

rming cards

If you have ever tried writing an A3 report before, you know how difficult it can be. This app features 65 brainstorming cards with hundreds of questions designed to guide you in each step of the problem-solving sequence.
Move organisations forward, one problem at a time
Let's be honest. In most organisations, people rarely take the time – or know how – to frame, analyze, and eradicate problems. A3 thinking is a wonderful approach to problem-solving and mentoring. An A3 report can be used to gain and share insights, guide and capture the story of a problem, expand the circle of influence and much more. With its focused questions, A3 Thinker will help you engage teams and co-workers in efficient problem-solving conversations.
Do you need a blank A3 Thinking template?
I always start from scratch with the cards, a blank sheet and a pencil.
A3 reports can be as different as the problems they capture. Sometimes you may want to put more emphasis on different sections and so you need some flexibility.
In any case, many love the convenience of a starting point, so I created a blank A3 Thinking report that you can download here:
Awesome app with great value!
Claudio has delivered a winner with his first app release. Packed with lots of great questions and information to assist towards problem-solving and gaining deep organizational insight. I love this app and it's a must-have for anyone interested in developing themselves and others. 5 stars!
An essential tool
We've used Claudio's A3 template quite a bit and every time, without fail, it lead us to epiphanies about actually is it that we're talking about (that the problem isn't this, it's that). The systematic approach to posing challenging and direct questions, and taking the time to really explore that, meant the outputs of that exercise are meaningful.
The quickest way to apply lean thinking
The best app available on this platform that can help you master the art and craft of writing A3 reports. If you are a lean practitioner, you should not miss this app.
Nice job on #A3 cards @agilesensei – great learning tool & cheat cards (nobody will know I am using them).
Gorgeous app – really liking the transitions (content is excellent too!)
Scott Sehlhorst @sehlhorst