frame, analyze & eradicate PROBLEMS systematically
develop YOUR CRITICAL-THINKING SKILLS
Create new problem-solvers
Learn How To
Unleash Your Problem-Solving Superpowers
Move from where you are to where you need to be
The A3 Thinker's Action Deck is based on the A3 Thinking management approach originated in Toyota and adopted by Lean organizations worldwide. It contains hundreds of questions to help you develop a deep, fact-based, and shared understanding of the true nature of a problem, its causes, and how to address them.
The A3 Thinker's Action Deck is a practical and versatile tool, designed to work with you side-by-side and help you achieve tangible results when and where you need them most.
This is one of the best Lean learning tools I've seen in recent years.
Karen Martin
President, TKMG, Inc.
The A3 Thinker's Action Deck fits easily in your pocket and it is crafted with smooth-finish casino-quality card stock for maximum portability and durability.
The front of each card features a set of thought-provoking questions which will help you frame problems with improved clarity, accuracy, precision, relevance, depth, breadth, logic, and significance.
The back presents an original cartoon to further illustrate each concept vividly.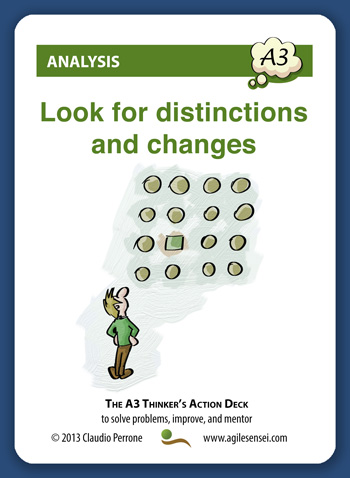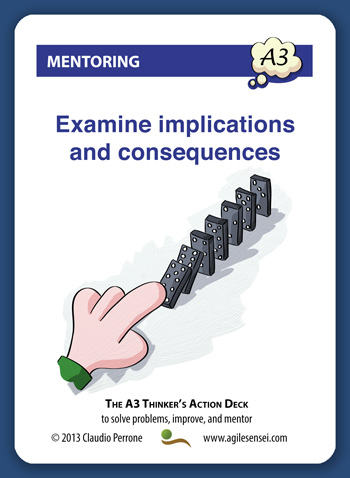 Cards are organized into 10 sections that will guide you through a time-tested problem-solving and improvement sequence: Background, Current Situation, Problem, Target, Theme, Analysis, Countermeasures, Implementation, Effect Confirmation, and Follow-Up.
An additional Mentoring section will help you throughout the sequence to review and challenge what you know so far, probe other people's thinking and engage teams and co-workers in powerful conversations.
Frequently Asked Questions:
Yes it does!
The instructions show how to use the cards in a typical problem-solving scenario.
Many people however report that they use them in ways that I didn't anticipate, like simply pulling a card from the deck and passing it around for discussion.
Additionally, some use the deck in their training, while others even use a subset of cards for pre- and post-sales meetings (it's the deck - not the consultant - that asks the "difficult" questions and leaves no stone unturned).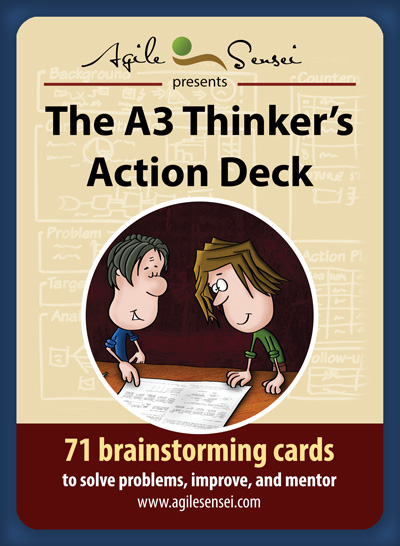 I generally start from scratch with a blank sheet and a pencil, which gives me maximum flexibility.
I think about A3 thinking as a process, rather than as a report and often I need to put more emphasis on one aspect of the report and less in others (for example I could have a preliminary report that only focuses on framing and analysing the problem), so I like the flexibility of a "free format" 🙂
In any case, I appreciate the convenience of a starting point, and since a few asks from time to time, I created a simple/typical one that you can download here:
There are some great books and resources out there. But let's be honest: books have a habit of collecting dust in a bookshelf after you've glanced at them a few times.
In the ideal A3 Thinking managment cycle, you'd have a very experienced sensei working with you, probing and challenging your thinking as you uncover the story of a problem. But experienced A3 mentors are rare. So, the A3 Thinker's Action Deck was born. Based on the principle that thinking is driven by questions, not answers - we developed with the goal was that "it had to be so good that even a very experienced sensei would adopt it".
The A3 Thinker's Action Deck is used by hundreds of organizations worldwide, including Toyota, Spotify, Honeywell, Carl Zeiss Microscopes, Siemens, Nissan North America, McKinsey, Skype, BearingPoint, J.P. Morgan, and many others.
Jeff Rogers
Process Improvement Facilitator

France Bergeron
Lean Coach & Consultant

Kai Simons
Co-founder DasScrumTeam AG

Linda Rising
Computer Software Consultant and Professional

Rory O'Connor
CEO at Scurri

Sunish Chabba
Agile Consultant

Darren Heaphy
Head of Product Strategy at Taxback International
A great resource for developing people into problem solvers...
I am finding excellent value and use from this impressive deck of questions and actionable ideas. This resource is the at-elbow coach that puts an agile sensei into the pocket of every person who needs to face a change! I have purchased several physical decks for associates (leaders, facilitators, and engineers) and they, too, are finding value in this resource. Wherever you are in the problem solving cycle, take a card, ask a question, pass it around; this will spark new levels of personal and organizational learning.
An excellent product
I use the A3 Thinker's cards during our Lean is Science: Problem Solving with A3 workshop and people just love them. They are a great addition to our training.
Learning A3 thinking with these cards is fun and easy
The A3 Thinker's Action Deck contains a sophisticated deck of brainstorming cards to train your impediment management and problem-solving muscles. Each A3 phase is supported by a color-coded card set with different aspects that helps you fill your A3 thoroughly. Claudio Perrone highlighted the essence of each card with a corresponding visual metaphor to facilitate its meaning. Even mentor cards are inside the deck to grasp the mentors perspective. I work with these cards a lot lately in trainings and coachings to help others get the concept right. These cards are great for everyone wanting to learn and work with this lean concept after having read some literature on A3s.
 These cards can be used for anything.
These cards can be used for anything. Personal reflection; team brainstorming; departmental planning; organizational strategy; non-profit board discussion. I often just pull them out of my briefcase and shuffle through them while waiting to talk to a client. These are good brain tools!
A very valuable resource
The cards are great for Agile or Lean practitioners and I certainly use them most times I do an A3. In fact the more complex the problem I am trying to solve, the more I will lean on the deck.
A game changer in the field of problem solving
I feel as if it has become an indispensable part of my Agile kit and I cannot leave home without it. A set of beautifully crafted cards that has helped me in improving client engagements, solve problems and mentor others. I have seen improved retrospectives and focus. This is going to be a game changer in the field of problem solving, and, it is a must have for all Lean and Agile practitioners.
An essential tool!
We've used the A3 in situations where we thought we understood the problem (and didn't) and when the problem has been unknown. The cards can be passed around and everyone can contribute. The card quality is fantastic, beautifully illustrated with inspirational quotes on each. Rarely would a situation not be better discussed without the power of A3 thinking. It's an essential toolkit for any company!