"What do you do?" I'm asked. "I am a Lean and Agile software development consultant." My reply is patently inadequate. It is my first conference since I officially started my freelancing adventure a couple of months ago – and it shows. The small business entrepreneur in front of me has no idea of what I just said. I pitched a solution without even framing the problem.
We exchange business cards, but we both know it's a mere act of courtesy.
I attend a few sessions and listen to other entrepreneurs sharing their expertise.
I can't help but feel like I don't belong.
Those sterile exhortations to "be more creative" end up irritating me. No! Being creative is not about your inner motivation or how you decorate your place. It is about learning how to think. I wonder what Edward de Bono, Roger von Oech, Michael Michalko and other creativity masters would say.
I roll my eyes. I swear, I want to scream.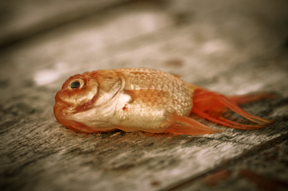 I expected to meet can-do business warriors full of ideas and fire to spare. All I see is goldfish, scattered on the floor, gasping and squirming.
My turn to speak comes. I panic for an instant, then I let the story unfold. Crafting Outstanding Presentations unleashes all its persuasive power and, somewhat, captures people's imagination.
But playing with emotions has unintended consequences: Today – three weeks after that event – I'm still receiving feedback, support and even some extraordinary business opportunities.
All this unexpected attention, however, is creating havoc to my existing business plans. You see, the problem is that I found a new sense of purpose. I discovered that I can make a difference, not because of what I achieved in the past, but because I can now warp time and space through a simple story.
I haven't figured out what I should be doing next. All I know is that "what do you do?" is a tricky question, and I still have no satisfactory answer.
Some things in life are bizarre though – like the fins and scales that cover my body.