Over the years I have used several productivity approaches, from goal-driven/top-down (e.g. Steven Covey's First-Things-First quadrants) to more reactive/bottom-up (e.g. David Allen's Getting Things Done).
I have also used more tactical approaches, such as the 48 minutes rule, which I always find surprisingly effective, particularly when I know I can work for some time uninterrupted.
To beat my worst procrastination habits however, I'm now using another set of productivity weapons: David Seah's The Printable CEO tools.
In the last few months I started measuring where my time goes during my work day. It is always a good idea to know where you are, before taking corrective actions and get where you want to go, don't you think? Armed with my trusted TimeLeft countdown, every fifteen minutes I tracked my activities (and distractions) in the Emergent Task Timer. After a while I got pretty used to it.
The form that really got my attention, however, is the Concrete Goals Tracker. David suggests a brilliant motivational approach which comes from his experience in the gaming industry: every time you complete something worth doing, you award yourself points.
In the last couple of years I've been doing quite a bit of research on motivational patterns emerged in game development and it is amazing to realize how simple things like adding a score to value our activities can trigger some of the most primitive mechanisms of our brain.
This morning, I thought I could use this system at home to help me focus on the tangible things I can do in preparation to my next talk.
Here is my first draft: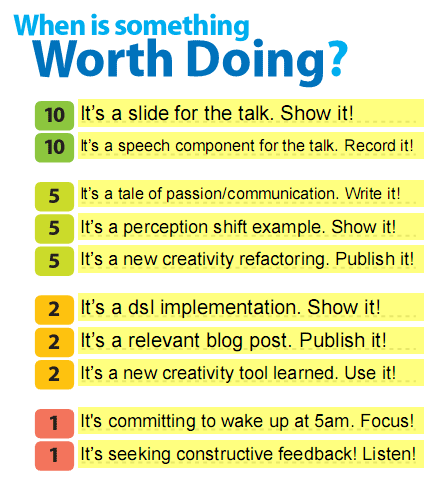 Don't worry if you don't quite understand some of the items I have written for now. It will all become clearer in the next few weeks. Let's just say that these are relevant to my talk. The actual deliverables (slides and narrative) are worth 10 points, the goal supporting activities are worth 5 or 2 points, the attitude 1 point.
So what do you think? Would a system like this work for you? In my case, I have absolutely no doubts!