A few days ago, Chris Hedgate asked me to join him in a little experiment that he called duoblog.
A duoblog is about writing on a shared subject in "parallel" with another blogger.
Since the agreed subject is broad and we don't see each other's work until we both publish it (@16:00 UTC), we should expect quite different results. These are pure parallel monologues, effectively. In my opinion, this is no different from what happens in a typical conversation: we listen to others so rarely that I suspect that we are all separated by an invisible soundproof glass!
I met Chris at a software architecture workshop in South Africa early last year, and we kept in touch ever since. Every time I visit Sweden he always surprises me with something different. His fearless approach to creativity and love for experimentation is truly inspiring and reminds me that, although we may fail, we ought to really try nonetheless.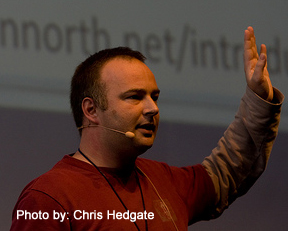 I really couldn't refuse to write a duoblog post with him this week, especially since the question he proposed to develop is so close to my heart:  "What is the secret of a great presentation?"
I have a definite opinion on the matter but, for fun, I did a quick research to see what others say. Among the top Google results, I found gems such as "sustained eye contact" and "be charming and knowledgeable". Are you thinking what I'm thinking? Yep, rubbish.
If you've ever attended one of my presentations in the recent past, you may expect me to take this chance to talk about the importance of Zen design, the need for relevant images and my dislike for bullet points. You would be wrong. As in many things in life, the most visible aspects are not necessarily the most important.
Arguably, many presentations fail simply because have absolutely nothing to say. Like special effects can't save a movie if the script is poor, pretty pictures won't save a shallow presentation either.
Presentations that dump mountains of data equally show lack of respect for their audience. People crave meaning. At least I do.
For some time, I thought I could do better. I would research my topic deeply and, assuming that I had something worth saying, I would structure my presentation around a logical outline.  In a typical presentation, I would quickly make my main point (the "lead") and I would generally follow it by 3 key sections to elaborate on the subject ("supporting details"). Finally, I would conclude my talk by restating my main point ("summary").
Assuming the subject addressed my audience needs, this structure had a fairly predictable outcome: clarity.
One day, however, I realized that, irrespective of the technology/process/idea I present, my key role is to inspire change.
To succeed, I had to go well beyond clarity. I had to emotionally engage. Why? Because it turns out that people make choices based on emotions (and use data to justify them). If you were really rational and objective, wouldn't you eat better and exercise regularly, for example?
Some people say that passion is all you need. Passion, however, is like a raw diamond: even if you have it, you need to learn how to make the most out of it. I know I can be really passionate. But how can I focus that passion to truly inspire change?
I found the missing piece while shedding tears watching a movie. Since then, I observed and studied many works able to inspire, influence and persuade; all of them tap into the art of storytelling.
I lost count on the number of books I read on screenwriting and creative non-fiction. I've been obsessed by it in the last couple of years. I learned and even developed my own tools to help me leverage the power of Story. I'd have so much to share: structure, dramatic outline, moral premise, character transformation, worse case scenarios, etc.
I now structure my presentations around a dramatic compelling story (not just anecdotes) in which the technology/process/idea plays a key role. The story is a device that I use to engage the audience and introduce the concepts I really care about.
That's it. Simple but not easy.
Last year I asked a colleague to give me feedback on a script (based on factual events) for a 1-minute presentation teaser I was about to develop over the weekend. Since I communicated with him through instant messaging, I had no special effects to support it. I wasn't even physically there. He read the text, line by line, as I was typing it. After a short pause he replied: "Wow Claudio, I'm hooked. I want to know more about it."
This is what I wrote:
you are a talented software developer
your technical skills make you feel invincible
until one day...
everyone turns against you.
your career and self esteem are put in great danger
by the single IT project
you can't run away from.
For your convenience, I put a link to the teaser as well (http://vimeo.com/1825440 ), but I would like you to think hard on the power of text alone.
My dear Chris and readers, were you "hooked" like my colleague was? I'm curious to read your reactions and opinions.
Next time I will introduce the key elements of a dramatic story and show you a simple but effective device I created to design captivating scenarios.
By the way, this is a duoblog post, remember? I'm looking forward to read Chris' view on the same subject here.